What is lamination?
Lamination is a technology for bonding two or more films. The combination of the respective film properties brings about new properties (function) so that the product can be used for diversified applications.
Versatility realized by high technology
Thailand Laminated products – products made by bonding substrate materials such as film with different functions, metal foil, and thin paper – are used as packaging materials for all kinds of products such as medical/pharmaceutical products, electric/electronic appliances, foods, and daily commodities. We offer products that satisfy our customers by proposing optimum solutions in material composition, shape, and functionality that meet customers' quality requirements based on ourlong years of experience and know-how.
Meeting All Needs, with Our Original Processing Technology and Manufacturing Environment
Our main manufacturing equipment is extrusion laminating machinery and dry laminating machinery. We perform slitting with a slitter equipped with a dust collector, produce bags in a clean environment, and process holes in a way that cannot be imitated by other makers. We are always on the lookout to expand and reinforce our ancillary equipment, while constantly paying attention to customer quality requirements. We work daily to manufacture products that can satisfy our customers by exploiting our original know-how, while responding to technological evolution.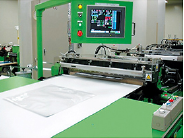 LAMINATED PAPER
Paper (ranging from thin paper of 40g/m2 to cardboard of 500g/m2) is laminated by PE or PP resin to offer properties such as waterproofness, moisture proofness, oil resistance, and heat-sealing. Use of aluminum foil as substrate material can provide lightproof and gas barrier properties. Use of printed film as substrate material can provide excellent aesthetics. By combing materials with different properties, we offer products that have properties of respective materials.
K75/PE15µ
PE6x6/K75
Spun bon 40gsm (PP18µ)
LAMINATED PRODUCTS IN THAILAND
Flexible Packaging Film
Protective functions include - moisture protection and gas barrier properties - as well as packaging workability suitable for contents. We are also developing next-generation high performance films for medical/ pharmaceutical products and electric/electronic appliances.
Bags made in Clean Environment
Highly sanitary large bags made in a clean environment. All manufacturing processes take place in a clean environment to minimize contamination of the packaging material.
Bags with Valves
Heat-sealing laminated film packaging bags with polyethylene degassing valve.
Low Adsorption Barrier Sealant
High performance sealant film produced in a low particle atmosphere, having excellent water vapor barrier properties, chemical resistance , aroma retention properties, and low absorbability, unlike general-purpose PE sealant films.
High Barrier Sheet for PTP (press through package)
Barrier film offers excellent moisture proofness, low temperature formability, and the ease of taking out tablets.
Large Aluminum Bags
Large aluminum inner bags made of aluminum materials offer excellent moisture proofness and puncture strength. Made in a very clean environment and ideal for contents that require a high degree of cleanliness.